Timebuster/Time Cruisers Comic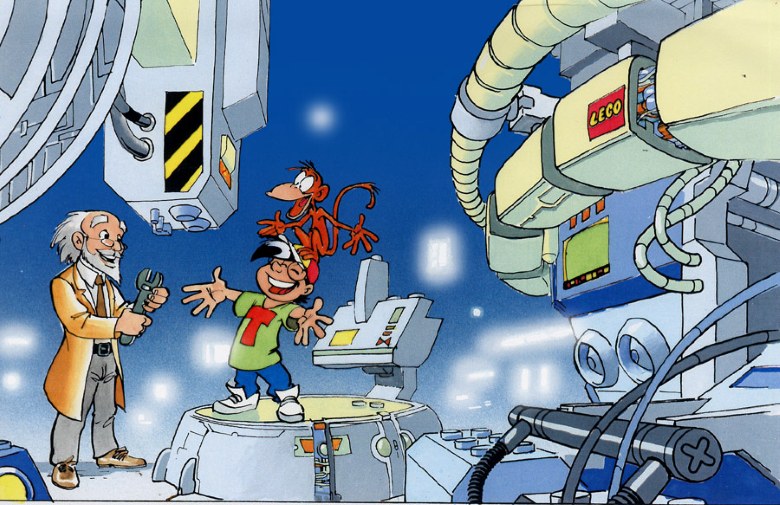 ---
You might know about Time Cruisers, the cool new lego toys for 1996. But do you know where they come from? Time Cruisers actually goes back to 1994, and began.... as a comic!
Timebuster - 1995-1996
Sadie has spoken with some of the people who made the comic... here's what Annemette Allerup had to say. She was a copywriter for Klick, the lego magazine that published the comic initially.

Originally [Klick] was an assignment for testing in Switzerland in the 80s. Because Lego had realized that there was a decline of interest in Lego bricks with a great number of kids (boys mainly at that time) once they turned 6 or 7, started school and other activities, they wanted to create a kids' magazine with some of the same educational values as Lego – a magazine that indirectly should support the different Lego universes. This became the Klick magazine which was marketed in Switzerland for a few years. Klick had stories about visiting a space centre in the US, about going on a boat ride (not many boat rides in Switzerland), about aeroplanes, cars and other things from real life that indirectly related to Lego universes of that time. We also had a small cartoon, I don't remember the name, and a relative small part of promotion for new Lego products.

Klick was well received and tested fine but due to wrong marketing it never became the magazine success Lego had hoped for. They both asked for subscriptions and handed out free issues at events so naturally they did not reach the number of paying subscribers they had anticipated. The project was closed after I don't remember how long, maybe 2 yrs.

4-5 years later however, a marketing man revived the idea of having a magazine that could keep the 6-8 yr old boys interested in their Lego, get the bricks clicking for a longer time in the kids' rooms, make Lego stay on the wishing list for Christmas and birthdays. This time the project started in Austria and again, was intensely tested before launch. The editorial concept this time was far more clearly focused on Lego – the magazine was initially named Lego Explorers – for curious and creative Lego fans, and it brought storytelling about seasonal Lego launches as well as some educational background stories about i.e. ancient Egypt, the Middle Ages, Underwater exploring etc. clearly linking to the different Lego products.

[Max] Timebuster was developed in the first part of this project – later developed into Time Cruisers. The idea was to be able to jump from one Lego universe to the next – suitable to the season's launches og different products. [Max] and the story was developed by me and Kim Hagen.
The cool time machine in Timebuster was designed by a fan:
The Timebuster car was one Lego had received from a keen buileder and big fan – Ole Primdahl showed it to me and we decided to use it for a cartoon in the magazine because it made it possible to travel from one Lego universe to another in an exciting way. It also supported the idea of combining bricks from different universes. Together we described the opportunities of the concept, but the character and cartoon was creatively developed in cooperation with Kim Hagen whom I had hired for a free lance artist for the magazines.
All comics scanned and translated to english by me! The art and scripts are by Kim Hagen. Content Warning: some of these comics contain racist depictions of Polynesian, Japanese, and Native American cultures.
Jan/Feb 1995 - Pirates
Mar/Apr 1995 - Pirates
May/Jun 1995 - Pirates/Aquazone
Jul/Aug 1995 - Aquazone
Sep/Oct 1995 - Aquazone/Dragon Knights
Nov/Dec 1995 - Dragon Knights
Jan/Feb 1996 - Dragon Knights/Exploriens
March 1996 onward: missing!!
---
Prinzenrolle
In 1996, a special Timebuster comic was made as a Prinzenrolle cookie promotion. Scans and translation by me again!
---
Time Cruisers
As you can see, by Jan '96 they had changed things to integrate the time cruisers toys - changing max's name to tim, and giving him the flybo for a new time machine.

At the same time this was happening, Klick was rapidly expanding into other territories. More from Allerup:
The Austrian magazine was tested with regular intervals – group interviews with kids were done to adjust (rather few) editorial mistakes. Same procedure was carried out in the French speaking countries Switzerland and France – some local differences resulted in local adjustments.

But then Germany wanted to launch a proper club project and the magazine became front runner of the Lego World Club project which enhanced also visits to Legoland Germany and a number of direct selling and merchandising activities. Again intensive research was carried out regularly – and all showed that receiving and reading the magazine stimulated playing with own bricks and wishing new ones immensely.
The rest of the comic issues below were scanned from the German World Club Magazin by Dark_Turtle, starting from its premiere in 1997. They made a new intro with the flybo to introduce german kids, but in austria (where Klick was still running) they probably just kept running things as normal.

Translations still by me!
Mar/Apr 1997 - Fright Knights
May/Jun 1997 - Fright Knights
Jul/Aug 1997 - Fright Knights/UFO
Sep/Oct 1997 - Fright Knights/UFO/Western
Nov/Dec 1997 - Western
Jan/Feb 1998 - Extreme Team
Mar/Apr 1998 - Extreme Team/Adventurers
May/Jun 1998 - Adventurers
Jul/Aug 1998 - Insectoids
Sep/Oct 1998 - Insectoids/Aquazone Stingrays
Nov/Dec 1998 - Aquazone Stingrays
Jan/Feb 1999 - Ninja
Mar/Apr 1999 - Ninja/Space Port
May/Jun 1999 - Space Port
Jul/Aug 1999 - Rock Raiders
Sep/Oct 1999 - Rock Raiders/Trains
Nov/Dec 1999 - Trains
Jan/Feb 2000 - City
Mar/Apr 2000 - City/Adventurers Dino Island
May/Jun 2000 - Adventurers Dino Island
Jul/Aug 2000 - Knights' Kingdom
Sep/Oct 2000 - Knights' Kingdom/Arctic
Nov/Dec 2000 - Arctic
Jan/Feb 2001 - Studios